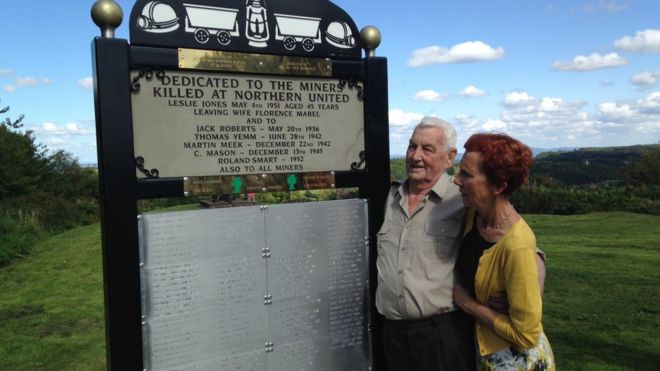 A new memorial has been unveiled to remember freeminers who died in mining accidents in the Forest of Dean.
The 7ft (2.13m) monument made of steel and stone stands next to Pan Tod beacon on Ruardean Hill, Gloucestershire and records the names of 50 men.
It has been built by ex-miner Ernie Hughes whose father Leslie died at the Northern United colliery in Cinderford in 1951, aged 45.
Mr Hughes said he had wanted to set up the memorial "all his life".
He said: "We wanted to set up the monument so everybody would have a record of what went on in the mines."
The former leader of the House of Lords Baroness Royall, who lives in nearby Blaisdon, helped Mr Hughes with the unveiling of the memorial.
She said: "It's sad because its a memorial to people who died, but it's a great celebration of our traditions and heritage in the Forest of Dean.
"The wealth of the Forest of Dean was built thanks to mining."
Freeminer is the ancient title given to a Forest of Dean miner who has earned the right to work personal plots.
To qualify, freeminers have to have been born in an area known as the Hundred of St Briavels and to have worked underground for more than a year and a day.
Several hundred Forest of Dean men used to work in small mining operations although in recent times their numbers have declined.
A new mine opened in the region in 2013 as part of an effort to attract young people into the industry.